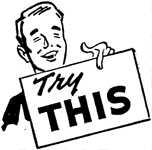 — Site updated week of September 4, 2017 -- www.exploringgodsword.co —
Exploring God's Word is an online library with articles, outlines, and other aids for helping you study your Bible. Get more into Christ's religion by getting more out of your Bible reading.


Access the Exploring God's Word library today by selecting a church of Christ near you from the directory at http://www.exploringgodsword.co/churchesofchrist.


Special announcement: If you happen to live in the Watertown, SD area and are looking for a solidly bible-based, non-denominational, group biblestudy, you may want to check out a weekly study instructed by our editor, David Churchill, in the meeting room at the Quality Inn & Suites in Watertown. The current topic of the study is "Why should Christians be eager to study the Bible?", a 13-week exploration of God's ambitions for people. Click here for more information.
---
Be sure to check out these latest materials being added or featured in the Exploring God's Word library.
• Read, Read, Read; by Jim Mettenbrink
• Religion?; What is; by Jim Mettenbrink
• Introducing Yourself to Bible Study; provided by David Churchill
• What to expect when you visit the church of Christ; prepared by David Churchill
• Building Your Bible Vocabulary: "Religion"

"But he answered, 'It is written, "Man shall not live by bread alone, but by every word that comes from the mouth of God."'" (Matthew 4:4, English Standard Version)
---
***** Using Internet Explorer? Please note — depending upon your security settings Internet Explorer may restrict some webpages on this site from running scripts for menu-button rollovers (which depend upon Javascript) and for certain interactive multimedia files (which depend upon the Adobe Shockwave player). The menu buttions will still function properly without the rollover effects, however the multimedia files may appear improperly as either invisible or else non-interactive. *****
Are you ever confused or frustrated by the storms of doctrine caused by the denominational religions claiming the label of Christianity?




Have you ever pondered how, why, and which religion fits into reality?
Are you open-minded to seeking the religion God built around Christ, and to leaving behind the religions people build around denominations and man-made doctrines?
Would you like to learn more about the God of the Bible and about the non-denominational religion He instructs in the New Testament?
Would you accept some help and encouragement letting the Bible interpret itself?



If you answer "yes" to any of these questions, then we have something in common with each other.
Would you join us in exploring the Bible as we seek to understand and practice God's religion — as the apostle Paul encourages us to do in 2 Timothy 3:16-17?
"All Scripture is given by inspiration of God, and is profitable for doctrine, for reproof, for correction, for instruction in righteousness, that the man of God may be complete, thoroughly equipped for every good work."
Access Exploring God's Word today by selecting a church of Christ near you from the directory at http://www.exploringgodsword.co/churchesofchrist.
| | |
| --- | --- |
| This site presents some information by using multimedia files made with Adobe Director (formerly Macromedia Director). If you can't read the "Thought for the day" above, then you need the Adobe Shockwave Player for your internet browser. Download it FREE at https://get.adobe.com/shockwave/ | |