Firming Your Foundation
How Does the Bible Authorize?
(i.e. How God says in His written word what is ok with Him)
Part 1
by David Churchill
[advance to part 2]
As a quick reminder before we get started, remember to always apply good Bible-study skills when evaluating what a passage authorizes. "Be diligent to present yourself approved to God," Paul encourages us in 2 Timothy 2:15, "a worker who does not need to be ashamed, rightly dividing the word of truth."
Especially important to consider are:
• What are the context and the background? How does the passage fit into the topic of the section or chapter and into the overall themes of the book and the Bible.
• Have you checked all the related passages? Scripture is its own best interpreter, so let it do so as much as possible.
• Are you using the simple & clear passages to understand the difficult & confusing passages? Truth agrees with truth, therefore the difficult passages do harmonize with the simple passages — if you evaluate two passages to contradict each other so that you favor the "correct" one and ignore the other, then you're misunderstanding the facts of one or both passages.
• Have you discerned the critical details involved — Who? What? When? Where? Why? How? Sometimes what appears to be the same event (or discussion) recorded twice are actually similar events on different occasions.
• Have you determined if and how the message in a passage applies to Christians? What were the writer's intentions and how did he expect for us to respond? Does the passage demonstrate the right things to do, or did the writer actually record an example of someone saying & doing the wrong things? To help illustrate why such discernment is necessary, here's a few spoken commands as recorded in the Bible.
"Let us make man in our own image" — Genesis 1:26 – God talking to God
"Take now your son, … and offer him there as a burnt offering" — Genesis 22:2 – God testing Abraham
"Curse God and die!" — Job 2:9 – Job's wife disagreeing with Job
"Yet forty day, and Nineveh shall be overthrown!" — Jonah 3:4 – Jonah's warning to the people of Nineveh
"Go and wash in the Jordan seven times, …" — 2 Kings 5:10 – Elisha's instruction to Naaman the Syrian leper
"…, command that these stones become bread." — Matthew 4:3 – Satan tempting Jesus

God knows what pleases Him. Are you doing it?
The phrase "name of the Lord" occurs over 100 times in the Bible, and in almost every instance it refers to God's authority. "And whatever you do in word or deed, do all in the name of the Lord Jesus," the apostle Paul wrote to Christians in his letter to the church in Colossae (Colossians 3:17). Earlier in this same letter, he mentions he prays often for them "… that you may be filled with the knowledge of His will in all wisdom and spiritual understanding; that you may walk worthy of the Lord, fully pleasing Him, being fruitful in every good work and increasing in the knowledge of God;" (Colossians 1:9,10). In his letter to the church in Ephesus, Paul worded it this way, "finding out what is acceptable to the Lord" (Ephesians 5:10), and again a few verses later "do not be unwise, but understand what the will of the Lord is" (Ephesians 5:17). [dc: emphasis mine]
"Finally then, brethren, we urge and exhort in the Lord Jesus that you should abound more and more, just as you received from us how you ought to walk and to please God; for you know what commandments we gave you through the Lord Jesus," Paul wrote in his first letter to the Thessalonian Christians, tying together obeying God's word & Jesus' teaching with pleasing God & satisfying the will of God. "For this is the will of God, your sanctification: that you should abstain from sexual immorality; that each of you should know how to possess his own vessel in sanctification and honor, not in passion of lust, like the Gentiles who do not know God; that no one should take advantage of and defraud his brother in this matter, because the Lord is the avenger of all such, as we also forewarned you and testified. For God did not call us to uncleanness, but in holiness. Therefore he who rejects this does not reject man, but God, who has also given us His Holy Spirit." (1 Thessalonians 4:1-8) [dc: emphasis mine]
These passages are plain and clear — God knows what pleases Him. God reveals His will and authorizes people to do it. And He is smart enough to identify who is doing His will and who is not.
Yet all over America and around the world, many so-called "Christians" claim to do things in the name of the Lord (i.e. by His authority) without actually doing what He has authorized. What does Jesus have to say about such people? "Not everyone who says to Me, 'Lord, Lord,' shall enter the kingdom of heaven," we read Jesus' words in Matthew 7:21-23, "but he who does the will of My Father in heaven. Many will say to Me in that day, 'Lord, Lord, have we not prophesied in Your name, cast out demons in Your name, and done many wonders in Your name?' And then I will declare to them, 'I never knew you; depart from Me, you who practice lawlessness!'" Likewise, "But why do you call Me 'Lord, Lord,'" we read Jesus' warning in Luke 6:45, "and not do the things which I say?" Are those people religious? Yes. Do they call Jesus 'Lord'? Yes, they do. Do they think they please God and have His authority? Yes, that is what they claim. So what is wrong? Perhaps the problem is not their lack of zeal to please God, but rather their lack of the true knowledge of His will.
The apostle Paul expresses this same concern in his letter to the church in Rome. At the end of chapter nine in that letter, he comments about the many Gentiles that have obtained God's righteousness by accepting Christ and about the many Jews that still lack that righteousness because they still seek it in the Old Law and so refuse Christ. "Brethren, my heart's desire and prayer to God for Israel is that they may be saved," we read his passionate concern in Romans 10:1. Why are they not yet saved? Paul explains why in verses two through four, "For I bear them witness that they have a zeal for God, but not according to knowledge. For they being ignorant of God's righteousness, and seeking to establish their own righteousness, have not submitted to the righteousness of God. For Christ is the end of the law for righteousness to everyone who believes." [dc: emphasis mine] They pretend to serve God by making up their own form of righteousness … by being their own authority in religion — and that is why they are not yet saved.
On one hand, it seems that a lot of sincere religious people are claiming Jesus as their Lord while making up for themselves how to serve Him. And if Jesus is right, then these people have a serious problem because Jesus promised He will NOT accept that. On the other hand, the people who are learning and doing the will of God are entering the kingdom of heaven and Jesus will confess that He knows them as His servants.
We have a choice to make. Do we really want to risk hearing Jesus say that He doesn't know us? Or, would we rather hear Jesus acknowledge to God that we please God and act with His authority?


Some general observations about Bible authority
Let me ask you some questions about Bible-based authority. Here's the first one. If in the Bible God makes statements about something that pleases Him – in other words, something that is acceptable to Him – is that something approved by God? "Well, of course it is," you're probably thinking. "If it pleases God, then it's acceptable… it's approved… it's OK with Him because it's something He likes." Yes, I agree – it only makes sense that God would approve what pleases Him, doesn't it?
Let's try another question. If along with this stating of His will, God also commands us to do it, instructs us how to do it, and shows us examples of how to do it – in other words, gives us guidelines about pleasing Him – is He giving us His authority to do it? Do we have His permission? "Well, obviously, the authority is built into that" should be going through your mind. "If God tells me to do something and expects me to do it, then I already have His permission for that… I don't need to ask for it." Yes, I have to agree with that — God's guidelines also provide us with God's authority.
Here's another related question. If in the Bible God gives us a margin of freedom to exercise our some of own discretion and preferences – is that freedom intended for ignoring or breaking His guidelines? "Well, certainly not," you're thinking right now, aren't you? "Whatever freedom God gives us to manage our own actions, we're still restricted to managing authorized actions." Yes, that does stand to reason, doesn't it – the freedoms we have within God's authority do not give us permission to go beyond or outside that authority.
One more question before we move on. In the Bible, how much effort should God put into describing what He has NOT given us permission to do – in other words, does God need to go into great detail forbidding every single little thing He can think of that He doesn't want us doing? "Well, wouldn't it be a lot simpler & easier if God just wrote down what he wants us to do," you might be responding, "and maybe added some forbidding for spelling out whatever he's being extra careful to discourage … and for whenever we might confuse some 'not-approved's as 'approved's." Yes, that's how I see it, too – in telling us everything He approves God's permission already leaves out all the stuff that lacks permission, so God's forbidding something is actually extra effort to be careful on God's part.

It's a lot like the mother who sends her little boy to the store to buy a few things. She tells him what to buy and gives him a list that says "one loaf of bread, one jar of peanut butter, one jar of jelly, and a quart of milk, not chocolate milk" along with more than enough money to buy those items. Obviously, she's planning on making her son's favorite lunch — peanut-butter & jelly sandwiches. So he brings home bread, peanut butter, strawberry jelly (his favorite flavor), whole milk ("because that's what Mom usually buys") and her leftover change. Everything is fine and they have lunch.
Now — imagine her surprise if he had brought home an opened bag of chocolates, a bucket of minnows, and a toy car along with a pocketful of gumballs. Our young man would be in trouble with his upset mom, wouldn't he? Suppose he argues to her that she didn't tell him NOT to buy those things or that she didn't ask him to bring back the leftover change. Still in trouble, isn't he? He has his mom's permission to buy what he was told to buy, and nothing else; she wrote "not chocolate milk" so he wouldn't get confused about what kind of milk; and since the money to spend belongs to Mom, so does the leftover change and of course she expects him to return it to her whether she asks him for it or not.

Well and good, I'm glad we're in agreement this much about authority and permission. (You'd be surprised how many people think T-H-E-Y tell God what He accepts instead of letting Him tell them.) I've reworded these general observations a little simpler here so they're easier for us to keep them in mind while we study.
• Authority = permission = "ok" = "approved" = "acceptable" = "pleasing to God"
• Permission, because it identifies and authorizes all that is "ok" or "approved," already excludes anything else as "not ok" or "not approved."
• Forbidding is simply extra effort to avoid confusion about some specific that already lacks permission.
• A lack of permission and a lack of forbidding is still a lack of permission.

This authority from God does come to us in what might be described as a "chain of command." In verse 42-43 of John 17, the writer warns us that many of the Jewish leaders did believe in Jesus, but they did not confess Him because they preferred pleasing men rather than God. Then, in verses 44-50, Jesus told those people (and us, too!) that listening or rejecting Jesus' words really means listening or rejecting God's words. "For I have not spoken on My own authority;" Jesus said plainly in verses 49-50, "but the Father who sent Me gave Me a command, what I should say and what I should speak. And I know that His command is everlasting life. Therefore, whatever I speak, just as the Father has told Me, so I speak." Imagine that! Not even Jesus presumed to speak religiously on His own authority as the divine son of God, but instead spoke only within the authority given him by God's word!! This same understanding begins the letter to the Hebrews — "God, who at various times and in various ways spoke in time past to the fathers by the prophets, has in these last days spoken to us by His Son, whom He has appointed heir of all things, through whom also He made the worlds; who being the brightness of His glory and the express image of His person, and upholding all things by the word of His power, when He had by Himself purged our sins, sat down at the right hand of the Majesty on high, having become so much better than the angels, as He has by inheritance obtained a more excellent name than they." (Hebrews 1:1-4) [dc: emphasis mine]
So the authority from God starts with the God the Father who gives all of that authority to Jesus. In turn, Jesus teaches God's authority to the apostles and inspired writers, who in turn teach that authority to us using the New Testament. As recorded in Matthew 28:18-20, Jesus came and spoke to the apostles, saying "All authority has been given to Me in heaven and on earth. Go therefore and make disciples of all the nations, baptizing them in the name of the Father and of the Son and of the Holy Spirit, teaching them to observe all things that I have commanded you; and lo, I am with you always, even to the end of the age." [dc: For an advanced study exercise, as you read the Bible start keeping track of all the different times Jesus or the writers refer to the written or established word of God or to why they themselves are writing. You'll be amazed!!]


Primary Ways the Bible authorizes Christians today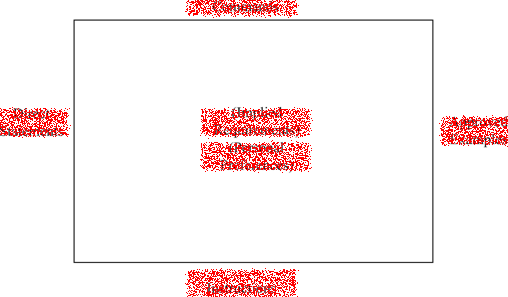 • Commands -- God orders the "do"s and "don't"s
Sooner or later, if God wants strongly enough for us to do something, He's going to tell us to do it. In other words, He's going to command us, isn't He? For example, look at the Scriptures we read earlier about God knowing what pleases Him. Most of them involve commands to Christians — commands to find out what is pleasing to God, commands to consider carefully what pleases God, and commands to do what pleases God.
If we compare God's authority to a box drawn around everything we can do with God's approval, then "Commands" is the obvious first side to that box. If we obey God's commands for Christians, we are definitely acting within the authority of God. If we refuse to obey those commands, then we are definitely acting without God's authority.
We need to mention here that oftentimes God's commands reflect the progress of a situation's particular needs or a person's particular level of growth. For example, in Genesis chapter six when God commanded Noah to prepare him for building the ark, Noah was told he will be bringing aboard two of every land and flying creature. Then, in chapter seven just before the Flood started when God commanded Noah to prepare him for entering the ark, Noah was told he will be bringing aboard two of every unclean land and flying creature and seven of every clean land and flying creature. Is this a contradiction? No, the timing of the commands was obviously intended to correspond to the progress of the project — just like in chapter eight after the Flood was over when God commanded Noah to prepare to leave the ark because the purpose of the ark was fulfilled.
This point reminds us again how necessary it is to correctly understand concerning the who, what, when, where, why, and how, as well as the context and background of each passage. Who is speaking to whom, and why? Is the passage intended to be understood literally (such as in Hebrews 10:24-25) or figuratively (such in Matthew 5:29; 7:3-5; & 18:9)? In our example of God's commands to Noah about the ark, clearly they were not intended for Christians to obey — yet the Genesis record of the Flood can teach Christians a lot about an important event in mankind's history, and about God's character in how & why He commands.
Before we move on to drawing the next side of our box defined by God's authority, we should also note that Jesus ties together our obedience to God with our love for God. John 14:15 records Jesus saying, "If you love Me, keep My commandments." Six verses later in verse 21, Jesus repeats, "He who has My commandments and keeps them, it is he who loves Me. And he who loves Me will be loved by My Father, and I will love him and manifest Myself to him." After being asked how He will manifest Himself to His followers, Jesus answers beginning in verse 23, "If anyone loves Me, he will keep My word; and My Father will love him, and We will come to him and make Our home with him. He who does not love Me does not keep My words; and the word which you hear is not Mine but the Father's who sent Me." Obeying Jesus' commandments is not only how we please God, but is also how we show God we love Him and how He abides with us.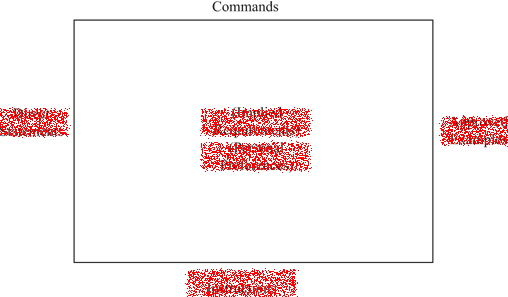 • Direct statements – God communicates the real facts
The majority of passages we read in the Bible are not commands as such, but are actually recorded facts. These "Direct Statements" or Biblical facts form the second side of our box and are responsible for authorizing most what we believe about God, Jesus, salvation, and Christ's church. The information they provide helps us understand God's guidelines for Himself and for us. And, in turn, these understandings helps us recognize and sort through man-made religious confusion.
• Some of these direct statements reveal parts of His plans for people and reveal how He operates.
In John 20:30-31, John recorded his purpose in writing that gospel. "And truly Jesus did many other signs in the presence of His disciples, which are not written in this book; but these are written that you may believe that Jesus is the Christ, the Son of God, and that believing you may have life in His name." This statement is not a command telling us "do this" or "do that," so we cannot obey it in that sense. Yet it does give us information about God's intentions and goals and about what He expected to accomplish by having John write down this account of Jesus' life. Therefore, we can "obey" the authority of this passage and others like this it by applying the understandings we gain from them and acting accordingly.
In Romans 8:1, we find out about a couple decisions God has made. One decision is about an advantage He reserves for a certain group of people. The other decision describes something about the authority guiding that group. "There is now therefore no condemnation for those who are in Christ Jesus, who do not walk according to the flesh, but according to the Spirit." Again, this is not a "do" or "do not" command, but this passage certainly can motivate our own decisions about becoming part of that group of people.
• Some Bible passages reveal facts about life in general and about spiritual life. A few of those statements might even be treated as spiritual laws of nature describing how the spiritual world works — much like our physical laws of nature do not dictate, but rather describe how the physical world works. As with other direct statements, these spiritual laws are not worded as commands, but they do imply requirements for those seeking to please God. We obey the authority of these spiritual laws by considering and fulfilling their implied requirements — basically, we apply the practical attitude of "that's the way things work, so that's what we need to do.
For example, "So faith comes by hearing," we read Paul's words in Romans 10:17, "and hearing by the word of God." This statement is no command, no comment about what God expects of us, no guideline of right or wrong, no insight into God's character or into His plan of salvation. It's a simply-stated observation of how the spiritual world operates without exception. It summarizes so clearly and so deeply everything we've been looking at about authority. It is the reason why God gave us His written word – so we could have His faith, which in turn allows us to access the benefits of that faith. If you're seeking to have a faith in God or if you truly desire to live the faith God approves, then it must come by hearing the word of God. If you have a faith that's not 100% based on God's word, then — no matter how pretty your faith, no matter how entertaining or helpful or generous your faith, no matter how personally satisfying your faith — it's not God's faith and it will do you no good in the long run because Jesus will tell you "But why do you call Me 'Lord, Lord,' and not do the things which I say?" "I never knew you; depart from Me, you who practice lawlessness!"
• Many passages record an objective presentation – a history, if you will – of something that happened or was said. Granted, there are still understandings for us to learn from these passages, but to gain those understandings requires both further thought on our part and further explanation from the rest of the Scriptures.
For example, in the book of Genesis, there are no commands for Christians to obey. However, from Genesis Christians can learn a lot about the earliest history of God's dealings with people and about God's personal character. (The New Testament writers often refer to the events and people recorded in Genesis and the Old Testament to help them explain or illustrate their teaching.) We "obey" these facts when we believe their truthfulness, apply them as we shape our understandings, and learn the valuable lessons God intended.
• Many times the direct statements in passages could be described as "proof" statements — statements intended to prove something to the reader.
For example, the gospel of John resembles very much a document presented as evidence in a trial. And, as we noticed earlier, John himself told the readers that what he had written was intended to persuade them to believe Jesus is the Christ. The theme of the letter to Hebrews deals with proving the superiority of the new law of Christ over the old law of Moses — partly by proving that the old law had to be fulfilled and finished before the new and better law could become in effect as it is now.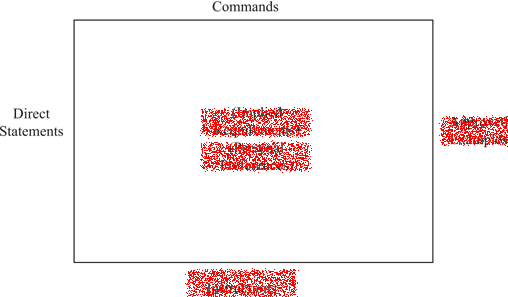 In part two, we'll continue examining the primary ways the Bible authorizes Christians today. We'll see how "Commands" and "Direct Statements" combine together with "Instructions" and "Approved Examples" forming the four boundaries of what Christians may believe and do with God's authority.
Working within these boundaries are the two secondary ways the Bible authorizes Christians today. Unfortunately, many in the religious world abuse them into excuses to ignore and to break God's authority. We'll look at how these secondary means are actually responsibilities and privileges that God delegates to Christians and we'll consider some ways to avoid abusing and misusing them.
[advance to next article]